See the easiest way to make Keto Cauliflower Mashed Potatoes in the crockpot or instant pot. This Cauliflower Mash recipe is buttery, the perfect consistency and of course low carb and Keto friendly.
The Best Keto Cauliflower Mashed Potatoes
Doesn't the idea of cauliflower 'mashed potatoes' sound great, but the typical twenty step process sounds totally not worth it? Yea I'm right there with you.
For months now I've been using the frozen cauliflower mash because I admittedly am lazy when it comes to my weekly meal prep. I want it to be easy peasy!
On the other hand, ya'll know I'm all about using fresh ingredients as much as possible, and after reading the back of the frozen cauliflower box well it's not so fresh lol.
I've been on a mission to come up with a super simple, buttery, garlic cauliflower mash recipe so I can finally kick that frozen crap to the curb!
Mission accomplished! This slow cooker or instant pot, 5 step keto cauliflower mashed potatoes are so easy to make and of course delicious. You bet this will be a staple in my weekly meal prep and I hope yours too.
so grab your crock pot, slow cooker or instant pot and let's make some cauliflower mash shall we?
How To Make Cauliflower Mashed Potatoes Keto Style
For this recipe you will need two heads of cauliflower, if you want to try a small batch first you can easily cut the recipe in half, but I made this with intentions of having enough to eat for the whole week, and since my husband eats extra I will probably even double it next week.
First, cut your cauliflower up, so you have just the florets and put them into your crockpot or instant pot along with 16 ounces of chicken broth.
Set your crock pot on high and cook for 3 hours Or 9 minutes on high in the instant pot
Once it's ready you will want to drain out the chicken broth or else you'll have cauliflower soup. No Bueno.
With your hand held mixer blend until your cauliflower is all mashed up.
Now you just have to add some flavor! Add in the butter, sour cream, garlic powder, onion powder, salt and pepper and mix it all up until well blended.
And there you have it! Easy right?! Give them a taste test and of course doctor them up to your liking.
If you want them to look extra pretty, you can sprinkle fresh parsley on top, but it's totally not necessary.
If you are serving these for dinner or a family get-together, you can leave them in the slow cooker on keep warm until you are ready to serve.
Or if you are using them for your weekly meal prep, they keep really well in the fridge and actually taste even more flavorful the next day.
If you try out this recipe be sure to share it and tag me on instagram @themermaidwithmuscles I'd love to see how it turns out!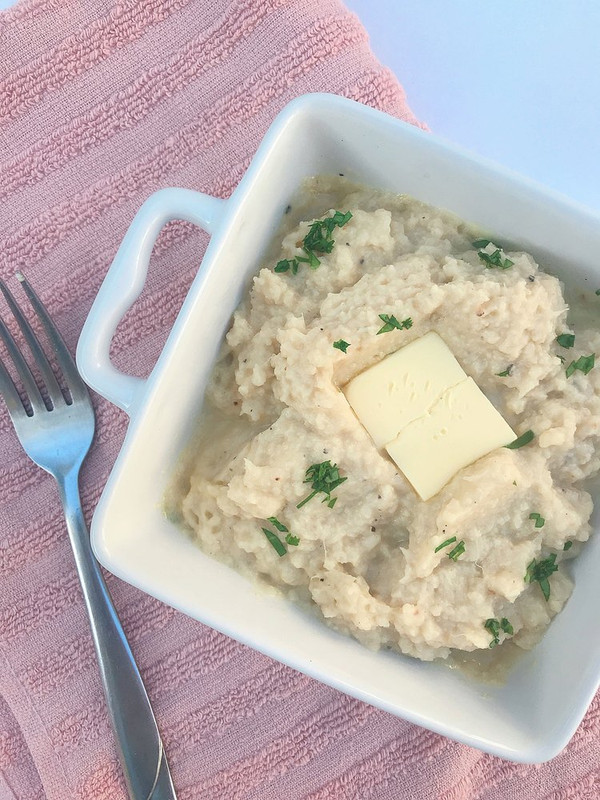 Keto Garlic Cauliflower Mashed Potatoes
Keto Cauliflower mashed potatoes in the crockpot or instant pot. This Cauliflower Mash recipe is buttery, the perfect consistency and of course low carb and Keto friendly.
prep time: 5 M
cook time: 9 M
total time: 14 M
ingredients:
2 Heads of Cauliflower
16 ounces Chicken Broth
4 Tablespoons Grass-fed Butter
4 ounces Sour Cream
1 Teaspoon Onion Powder
2 Teaspoons Garlic Powder (add more to your liking. My hubby and I love garlic and ended up using a tablespoon, but that might be a bit much for some)
1 Teaspoon Salt
1 Teaspoon Pepper
instructions:
Cut each head of cauliflower into florets and add to crockpot or instant pot
Add the chicken broth to the crockpot and cook on high for 3 hours Or 9 minutes on high in the Instant Pot
Drain the chicken broth out and discard
Use a hand-held mixer to blend cauliflower until it completely mashed
Add butter, sour cream, onion powder, garlic powder, salt and pepper and blend until fully combined
NOTES:
* you can leave the cauliflower mash on keep warm until you are ready to serve or store in the fridge if you make them ahead. They taste just as good re-heated, if not even better.

Nutrition Facts are based on 1 serving = 1/2 Cup (122g) of Cauliflower Mash
COPYRIGHT 2019 www.meganseelinger.com | The Mermaid With Muscles Blog
Nutritional information is provided and I keep it as accurate as possible. Keep in mind nutrition facts on all ingredients may vary depending on the different brands you may use. I am not a doctor and advise solely from personal experience. Please consult your doctor before adding any supplement or foods to your current diet.
More Keto Recipes You'll Love: