Keto Chicken Wings in the instant pot are sure to be a party favorite and of course easy to prepare. These buffalo wings have a sweet, buttery, and a mild spicy flavor, but still low carb chicken wings that everyone will love.
Are you looking for a crowd-pleasing Keto appetizer? These Keto Buffalo Wings are easy to prepare in your instant pot, sweet, spicy, and buttery goodness!
Keto chicken wing appetizers are always a party favorite, but sauces that taste this good are usually loaded with sugar. These low carb chicken wings got the sweetness with a little spice, yet still Keto friendly!
As far as cooking the Keto Buffalo Wings you have two easy options, baking or pressure cooking them (in an instant pot or Ninja Foodi). Either way, I recommend tossing them in the air fryer to crisp them up too.
Keto Chicken wings Recipe
First, combine the Franks Original Hot Sauce, brown sugar substitute ( I used Lakanto Golden Monkfruit), garlic powder, smoked paprika and Butter in a small saucepan over high heat. Bring the mixture to a boil and then set aside.
I prefer Lakanto Golden Monk fruit sweetener, because it is a natural sweetener coming from a monk fruit, but doesn't have any effect on blood sugar or insulin. None of Lakanto's sweeteners have a yucky aftertaste like Swerve or other sugar alcohols. ( you can use code MERMAID for a discount on all Lakanto products)
Season the wings with salt and pepper and it's time to cook them.

How to Make Keto Chicken Wings in the Oven
If you prefer to bake your wings, place the wings on a foil-lined baking sheet and bake for 15 minutes at 450 F
How to Cook Chicken Wings in Instant Pot
In the pressure cooker, instant pot, Ninja Foodi, add 1 cup of water to the pressure cooker, using the crisper basket add wings and pressure cook on high for 5 minutes.
Once your wings are done baking or pressure cooking toss them in the hot sauce and butter mixture.
How Long to Air Fry Chicken Wings
Now you'll want to air fry the Wings to get them nice and crispy. If you are using a Ninja Foodi be sure to dump out the water.
Air fry the wings at 390 F for 8 minutes, remove and toss in the sauce again. Air fry for an additional 8 minutes. If there is any sauce left, you can toss in the sauce again before eating.
Keto Chicken Wing Dipping Sauces You'll love:
Homemade Keto Ranch Dressing Recipe
The Best Instant Pot
By the way, I recently got this Ninja Foodi and its amazing! First off, I was able to give away my veggie steamer, rice cooker, and air fryer, which made me a happy girl because I was starting to feel like so much of my pantry space was being taken up by all the different kitchen gadgets!
The Ninja Foodi literally does it all… dehydrator, slow cooker, pressure cooker, you can sautee in it and of course steam and air fry. Even if it isn't something you want to spend the money on right now, put it on your birthday and Christmas gift wish list! I'm convinced every busy woman needs this thing in their life ASAP!
Are Chicken Wings Keto
As you know Keto should be a low net carb, high fat, moderate protein diet. With that being said on a daily basis I wouldn't eat a dozen Keto chicken wings because that would probably be higher in protein than advised to eat per meal, however, its obviously a better choice for you to eat all the Keto Buffalo wings instead of an entire bag of potatoes chips at the Super Bowl party!
If you are making them for lunch I recommend only eating a few and saving the rest for another meal. Check out this article by Dr. Perlmutter if you'd like to learn more about proper portion sizes for Keto!
Live Your Best (Keto) Life:
• Keto Approved Food List + Meal Planning Guide (Free Printable)
• 7 Best Habits To Maintain Ketosis On A Keto Diet
If you try out this recipe be sure to share it and tag me on instagram @themermaidwithmuscles I'd love to see how it turns out!
Yield:
12 Keto Buffalo Chicken Wings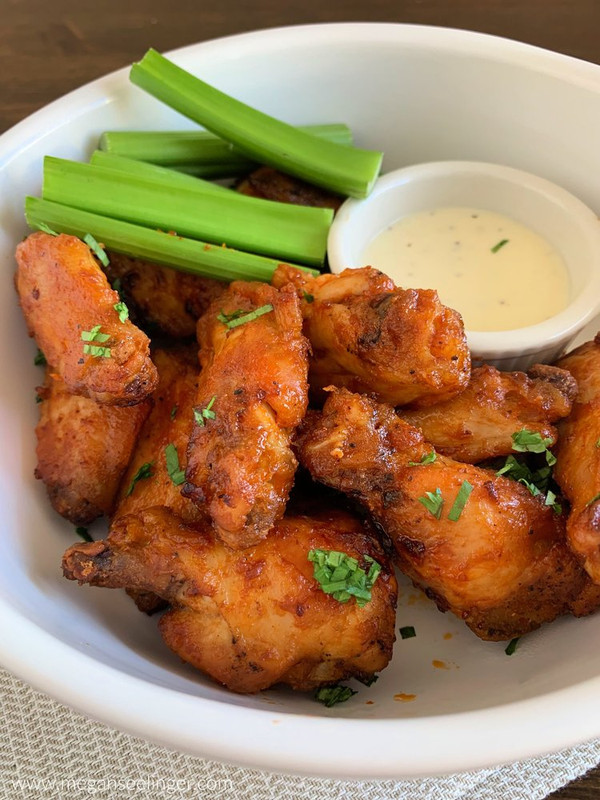 Easy Keto Instant Pot Buffalo Chicken Wings
Keto Chicken Wings in the instant pot are sure to be a party favorite and of course easy to prepare. These buffalo wings have a sweet, buttery, and a mild spicy flavor, but still, low carb chicken wings that everyone will love.
prep time: 5 M
cook time: 25 M
total time: 30 M
ingredients:
12 Chicken Wings
1/2 Cup Frank's Red Hot Original Sauce
1/4 Cup Lakanto Golden Monk Fruit Sweetener (brown sugar alternative)
28g/1 oz Kerry Gold Grass-fed Unsalted Butter
1/4 Teaspoon Garlic Powder
1/4 Teaspoon Smoked Paprika
1/2 Tablespoon Pink Salt
1 Teaspoon Ground Pepper
instructions:
How to cook Easy Keto Instant Pot Buffalo Chicken Wings
Instant Pot Chicken Wings
In a small saucepan combine Frank's Red Hot Original Sauce, Lakanto Golden Monkfruit Sweetener, Butter, garlic powder and paprika. Bring to a boil and then set aside
Add 1 cup of water to pressure cooker, Season wings with salt and pepper and add the wings to pressure cooker in the crisper basket. Cook on high for five minutes
Remove from the pressure cooker and toss in the buffalo sauce you previously boiled.
Remove water from the pressure cooker, place the crisper basket and wings back in the Ninja Foodi (or into your air fryer if you were using an instant pot)
Air fry on 390 F for 8 minutes. Toss the wings in the sauce again and air fry for an additional 8 minutes
Oven Baked Chicken Wings
Preheat oven to 450 F and line a 9 X 13 baking sheet with foil.
Season the wings with salt and pepper, place on the baking sheet and bake for 15 minutes
In a small saucepan combine Frank's Red Hot Original Sauce, Lakanto Golden Monkfruit Sweetener, Butter, garlic powder and paprika. Bring to a boil.
Toss baked wings in the sauce and place in air fryer
Air fry on 390 F for 8 minutes. Toss the wings in the sauce again and air fry for an additional 8 minutes
NOTES:
Nutrition Facts based on 1 Chicken Wing
COPYRIGHT 2019 www.meganseelinger.com | The Mermaid With Muscles Blog
Nutritional information is provided and I keep it as accurate as possible. Keep in mind nutrition facts on all ingredients may vary depending on the different brands you may use. Consult your doctor before adding any new foods or supplements to your diet and read our full Terms and Conditions
More Keto Recipes You'll Love: