The maple dijon low carb chicken marinade adds a lot of flavor to this easy Keto chicken thigh recipe. The marinade is sweet, but still a sugar-free and low carb recipe.
When you think about it, really good keto grilled chicken recipes are hard to find. Most grilling marinades like BBQ or teriyaki are higher in carbs and sugar.
This maple dijon marinated keto grilled chicken recipe is sweet, but sugar-free and low carb. It's the perfect low carb dinner that the whole family will love and a keto diet menu must try.
How to Make Maple Dijon Keto Chicken Thighs
Start with a pack of skinless, boneless chicken thighs (about six thighs). Side note: You can use whatever cut of chicken you'd like. I use a fork to poke little holes all over each piece of chicken to tenderize the thighs and to help soak up that low carb marinade.
From here you have two easy options:
Option 1: put the thighs in a gallon size ziplock baggie, mix the marinade up, pour over chicken, seal the baggie, mix it all around, set the bag of chicken aside in the fridge to marinate. You can either do this the night before so you can come home from work and throw it on the grill or let it marinate for 20-30 mins while you prepare any side dishes.

Option 2: Brush the marinade onto each chicken thigh and continue brushing more marinade onto each piece every couple minutes while it's grilling.

How To Cook Keto Chicken Thighs
You can bake, cook on the stovetop or grill your chicken thighs, but if you have the option of grilling it gives the recipe the best flavor and keeps the chicken nice and juicy.
How to Grill Chicken Thighs
I recommend putting the grill on medium heat and grilling for about 7 minutes on each side.
How to Bake Chicken Thighs
Preheat oven to 350 F, place chicken on a sheet pan and bake for about 12- 15 minutes
How to Cook Chicken Thighs on Stovetop
In a medium sauté pan over medium-high heat cook chicken for about 5 minutes on each side
Maple Dijon Low Carb Chicken Marinade
The main components of the marinade are Keto friendly syrup, dijon, and liquid aminos.
Lakanto Maple Flavored Sugar-Free Syrup is only 1 Net Carb, gluten-free and sweetened with monk fruit which is a naturally occurring sugar alcohol and Keto, Vegan and Paleo friendly!
This is my go-to low carb syrup as an ingredient for recipes because it is a thinner consistency than the Keto syrup I prefer on my Keto Coconut Flour Pancakes
I like to use Bragg Liquid Aminos instead of soy sauce because Bragg Liquid Aminos contains 16 of the 20 amino acids, which are the building blocks of protein. The body uses these amino acids for things like digestion, tissue growth, and repair and I personally think it tastes better than soy sauce.
It is still made with soybeans like soy sauce but is Non-GMO, gluten free, preservative free and alcohol-free.
What is a Serving Size of Keto Chicken Thighs
Despite uneducated people in the health industry who label Keto as a meat and cheese diet, Keto is intended to be a moderate protein diet.
In fact, you should try to eat as plant-based as possible getting your protein from foods like eggs, nuts, avocados, etc. and eat fairly small portions, about 3-4 ounces, of meat.
According to Dr. David Perlmutter MD you should fill your plate with 2/3 colorful veggies, 1/3 high-quality animal protein and add in some high-quality fats like olive oil or coconut oil.

What To Do With Leftover Keto Chicken Thighs
The leftover chicken stays good in the fridge for at least 4-5 days, so you can portion your leftover chicken thighs out for meal prep lunches, or you can dice it all up and make a Leftover Chicken Salad, it's delicious, and the Maple dijon low carb marinade makes the flavor even better.
If you make the recipe be sure to share your creation.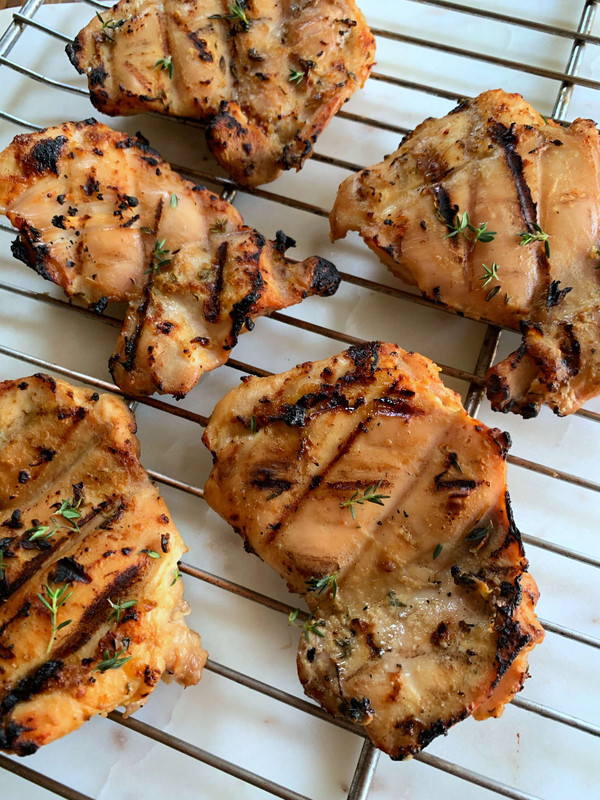 Grilled Keto Chicken Thighs with Maple Dijon Low Carb Chicken Marinade
The maple dijon low carb chicken marinade adds a lot of flavor to this Keto chicken thigh recipe. The marinade is sweet, but still a sugar-free and low carb recipe.
prep time: 5 M
cook time: 14 M
total time: 19 M
instructions:
How to cook Grilled Keto Chicken Thighs with Maple Dijon Low Carb Chicken Marinade
Fire up the grill and preheat to medium heat
Use a fork to poke little holes all over each chicken thigh to tenderize and it helps the chicken soak up the marinade. Place the chicken in a gallon ziplock bag
In a small bowl, stir together maple flavored sugar-free syrup, dijon mustard, liquid Aminos or soy sauce, thyme, and garlic.
pour marinade into gallon baggie with chicken, seal the baggie, shake and mix it all around until chicken is evenly coated. You can either grill right away or set the bag of chicken aside in the fridge to marinate longer.
Place chicken on the grill and grill on each side for about 7 mins or until a meat thermometer reads 165F
NOTES:
Nutrition Facts Based on a 4oz Serving of Maple Dijon Chicken Thighs
COPYRIGHT 2019 www.meganseelinger.com | The Mermaid With Muscles Blog
Nutritional information is provided and I keep it as accurate as possible. Keep in mind nutrition facts on all ingredients may vary depending on the different brands you may use. Consult your doctor before adding any new foods or supplements to your diet and read our full Terms and Conditions
More Keto Recipes You'll Love: