This Keto Cereal recipe is an easy, make-ahead breakfast recipe. The gluten-free cereal ingredients are a variety of nuts, chia seeds and coconut, which also make it a vegan and a low carb breakfast cereal. Plus, it's jam-packed with antioxidants and omega-3's.
Keto Cereal Ingredients
You'll love the benefits of the Gluten-Free Cereal ingredients:
Benefits of Chia Seeds
Chia seeds are a great source of omega-3 fatty acids, antioxidants, and they are loaded with fiber, iron, and calcium.
Omega- 3 fatty acids protect against heart attack and stroke by helping raise HDL cholesterol, the "good" cholesterol. Benefits of MCT Oil
Benefits of Coconut
Coconut is high in healthy saturated fats that are much different than the saturated fats you are told to avoid.
These healthy fats boost fat burning and provide quick energy to your brain. And like chia seeds raise the HDL cholesterol in your blood
oh and did I mention it is also good for your hair and skin too.
Sweetener for Keto Cereal
You may not need to add any extra sweetener. However, if you do need additional sweeteness I recommend using a liquid sweetener. The granulated sweeteners won't fully dissolve since this is a cold Keto Cereal Recipe.
The liquid sweetener I use is Lakanto Liquid Monk Fruit Extract. It's zero calories, no sugar or added artificial flavoring, and has no bitter aftertaste like other sugar alternatives.
It's perfect to carry with you on the go to sweeten drinks, coffee or even water since there are several flavors.
How to Make Keto Cereal
As you will see in the recipe and instructions below, I make the Keto Cereal blend ahead of time and store it in a large mason jar.
You chop up almonds, walnuts, macadamia nuts, pumpkin seeds and combine them with unsweetened coconut flakes and chia seeds.
Each morning just add 45g of the mixture, a half ounce of frozen blueberries, sweetener and unsweetened almond milk to a bowl! And you got yourself a tasty bowl of Keto Cereal.
More recently I have been adding three additional supplements to my bowl a Nootropics blend, adaptogen blend and collagen for even greater health benefits!
Optional Keto Breakfast Cereal Supplements
When adding in the supplements to my Keto cereal, I add 8oz of almond milk to a shaker cup add in the three supplements below, shake it up and then pour some of it into the Keto cereal and then drink the rest.
These are the three Keto supplements I add into my Keto Cereal Recipe every morning
Perfect Keto Nootropics- is a combination of exogenous ketones, herbs, MCTs, amino acids and collagen. The exogenous Ketones fuel cognitive function and the MCTs and grass-fed collagen peptides give you that long-lasting mental alertness and clarity. It also adds a chocolate flavor to the breakfast bowl!


Four Stigmatic Adaptogen Blend- 10 species of different adaptogens that are all widely researched including: reishi and cordyceps, ginseng, ashwagandha, tulsi, gynostemma, ginger and turmeric. I started adding this blend to help with adrenal fatigue, anxiety, calming nerves and better sleep!


Naked Nutrition Collagen- This collagen has no flavors added to it, it's literally naked like the name implies. Super clean grass-fed collagen peptides. Collagen provides health benefits including joint health, youthful skin, healthy hair, protecting cartilage and bones, and workout recovery.
If you try out this recipe be sure to tag me on instagram @themermaidwithmuscles so I can see how they turned out!
Yield:
13 Bowls of Keto Cereal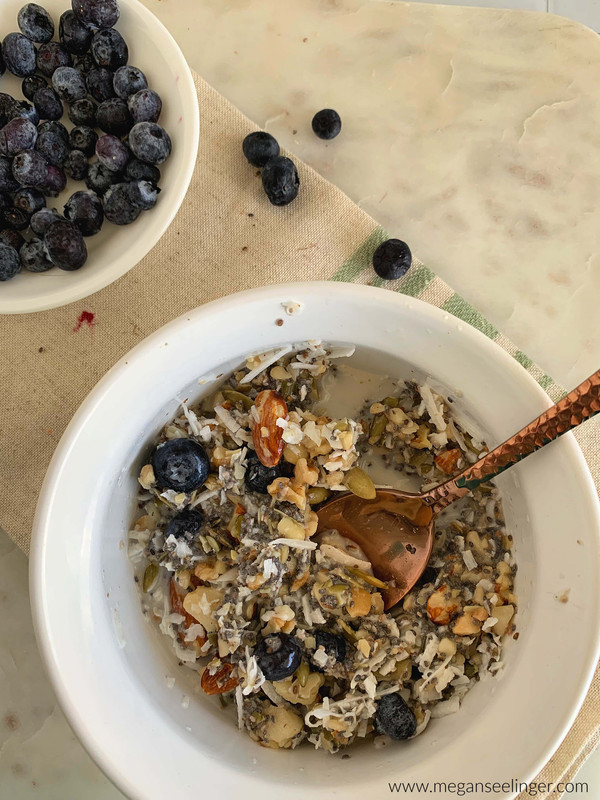 Easy Keto Cereal Recipe- Vegan and Gluten-Free Cereal
This Keto Cereal recipe is easy, make-ahead breakfast recipes. The gluten-free cereal ingredients are a variety of nuts, chia seeds, and coconut, which also make it a vegan and low carb breakfast cereal. Plus, it's jam-packed with antioxidants and omega-3's.
prep time:
cook time:
total time:
ingredients:
Make-Ahead Keto Cereal Mixture
instructions:
How to cook Easy Keto Cereal Recipe- Vegan and Gluten-Free Cereal
Make-Ahead Keto Cereal Mixture
Use a chopper to chop almonds, macadamia nuts, walnuts, and pumpkin seeds.
In a medium bowl mix all the chopped nuts, chia seeds, and coconut
Store in a large mason jar or another container
To Make Your Keto Cereal Each Morning
Add 45g of Keto Cereal mixture, .5 ounces of blueberries to a small bowl
Add the almond milk directly to the bowl, as much as you'd typically add to your cereal
Add about 4 drops of liquid Monkfruit sweetener, stir and enjoy
IF YOU ARE ADDING EXTRA BLENDS: add 8oz of almond milk, perfect keto nootropics, naked nutrition collagen and four sigmatic adaptogen blend to a shaker cup, shake to blend, add the desired amount to your Keto cereal and drink the rest (no need to sweeten it the nootropics is sweetened with stevia already)
NOTES:
Nutrition Facts are based on 45g of keto Cereal blend, .5 oz blueberries, 2.5 oz unsweetened Almond Milk
COPYRIGHT 2019 www.meganseelinger.com | The Mermaid With Muscles Blog
Nutritional information is provided and I keep it as accurate as possible. Keep in mind nutrition facts on all ingredients may vary depending on the different brands you may use. I am not a doctor and advise solely from personal experience. Please consult your doctor before adding any supplement or foods to your current diet.