No Bake Keto Cheesecake Bites are the perfect easy Keto desserts. These mini cheesecakes have a low carb cheesecake filling sweetened with monk fruit sweetener and a low carb almond flour crust. The whole family will love making and eating this easy low carb mini cheesecake recipe.
All the sweetness and richness of cheesecake, but more fun and guilt free for your Keto diet menu. These mini cheesecakes are the perfect bite-size for parties or for a daily sweet treat to end your long day.
And since they're frozen, you can just eat what you want and save the rest for later. So let's jump into exactly how to make low carb mini cheesecakes.
Keto Cheesecake Bites Low Carb Crust
To make the low carb cheesecake crust first combine melted butter, Now Foods Almond Flour and Lakanto Monk fruit Sweetener.
Fully combine all of these ingredients, the mixture will still be crumbly, but that's ok because now you will firmly press about two teaspoons of the almond flour crust mixture into each section of an ice cube tray.
This low carb cheesecake crust is a primarily an almond flour crust, which my go-to brand is Now Foods Raw Almond Flour. The only ingredient on the nutrition label is almonds. Since it's Raw almond flour, it's going to be less processed than many other almond flours.
I recommend using Lakanto Monk fruit Sweetener for a sugar-free cheesecake crust. Lakanto is the sugar substitute I use in all of my Keto Dessert Recipes because it's NON-GMO, no maltodextrin, no artificial flavoring or sweeteners and it doesn't have that strange after taste like many of the sugar replacements do.
If you check out Lakanto's site and decide to stock your pantry be sure to use code MERMAID for an extra discount.
low carb cheesecake filling
In a separate bowl, you'll combine the softened cream cheese, plain unsweetened greek yogurt, the juice from half of a lemon, vanilla extract and the remaining Lakanto Monk fruit Sweetener.
Once it's all fully blended, evenly spoon the Keto cheesecake filling on top and smooth the tops with a spoon or spatula
The combination of the cream cheese, greek yogurt and vanilla extract makes delicious vanilla cheesecake fat bombs. I love that these cheesecake bites are a frozen no-bake Keto dessert thanks to the yogurt, which has left several people confused and questioning if yogurt is Keto friendly!
Can you eat yogurt on the Keto Diet?
To ease your troubled mind, I snagged this snippet from healthline.com "Although plain yogurt is fairly low in carbs, many people tend to eat fruit-flavored, artificially sweetened low-fat or nonfat yogurt. ... One cup of nonfat sweetened fruit yogurt can have up to 47 grams of carbs, which is even higher than a comparable serving of ice cream. However, choosing plain Greek yogurt will keep digestible carbs under 10 grams."
Moral of the story: You can have full-fat plain Greek yogurt in moderation. A 1/2 cup of plain greek yogurt in a recipe isn't going to sabotage your Keto diet.
Don't over complicate this whole "Keto Diet" thing. The real enemy with any "diet" is starchy carbs and processed foods like pasta, potato chips, bread, and sugary pre-packaged snacks.
More Keto Dessert Recipes You'll Love:
Easy No-Bake Keto Almond Butter Brownie Bites
More Tips for making No Bake Keto Cheesecake Bites
I like adding two blueberries to the top of each cheesecake (which I did include in the nutrition facts). You can also try making Keto Cheesecake Bites with strawberries, blackberries or raspberries.

Be sure to initially freeze the no-bake cheesecake minis for at least 2 hours or even overnight. Once they are frozen, use a butter knife to loosen the edges of each cube and pop them out.

Store them in a freezer friendly container rather than leaving them uncovered in the ice cube tray.

You can insert popsicle sticks into each cheesecake before freezing them. It's fun little cheesecake popsicles, but to be honest, I don't usually use them because I eat mine in two quick bites haha.

The best way to enjoy your Keto Cheesecake bites is by putting them on a plate and letting them thaw for just a few minutes. This way you don't get cold teeth and brain freeze lol and they have a nice creamy, melt in your mouth consistency.
is cheesecake low carb?
There is no doubt these Keto cheesecake minis have a low carb cheesecake crust and a vanilla cheesecake fat bomb filling that makes them the perfect Keto dessert.
There are only 2 Net Carbs in each of these cheesecake bites.
If you try out this recipe be sure to tag me on instagram
Yield: 16 Cheesecake bites
Pin it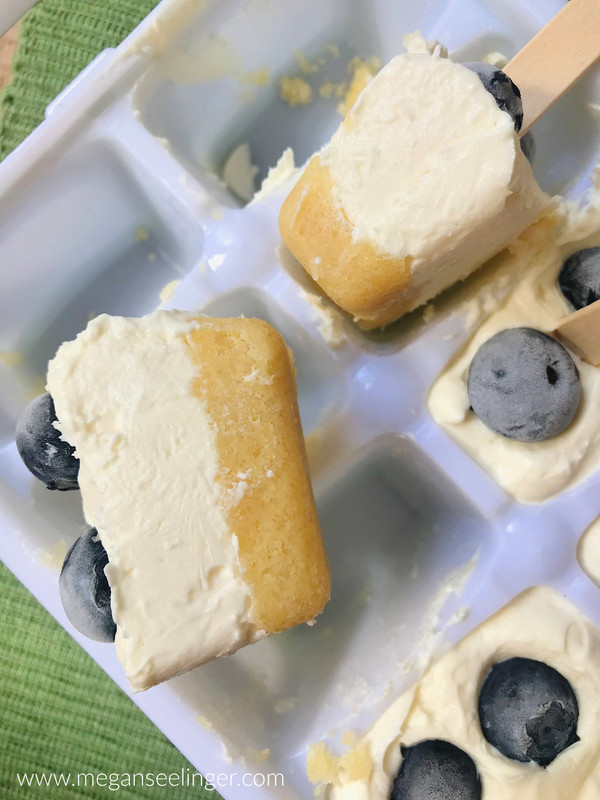 Easy No Bake Keto Cheesecake Bites
No Bake Keto Cheesecake Bites are the perfect easy Keto desserts. These mini cheesecakes have a low carb cheesecake filling sweetened with monk fruit sweetener and a low carb almond flour crust. The whole family will love making and eating this easy low carb mini cheesecake recipe.
prep time: 2 hour and 5 mins
cook time:
total time: 2 hours and 5 mins
instructions
Mix together butter, almond flour, and 2 Tbsp Lakanto Monkfruit sweetener
Press 2 teaspoons of mixture into the bottom of each section of the ice cube tray.
In a medium bowl beat cream cheese then add plain unsweetened greek yogurt, vanilla extract, lemon juice and 3 tablespoons of Lakanto Monkfruit Sweetener
Evenly distribute cream cheese mixture on top of crust and smooth tops with a spoon.
Top each cheesecake with 2 blueberries and insert a popsicle stick in the centers about 3/4 of the way into each cheesecake (optional)
Freeze for at least 2 hours, once frozen loosen the sides of the cheesecakes with a butter knife and pop each cube out
Keep Cheesecake bites stored in the freezer
COPYRIGHT 2019 www.meganseelinger.com | The Mermaid With Muscles Blog
Nutritional information is provided and I keep it as accurate as possible. Keep in mind nutrition facts on all ingredients may vary depending on the different brands you may use. I am not a doctor and advise solely from personal experience. Please consult your doctor before adding any supplement or foods to your current diet and Read our full Terms & Conditions.
Shop Keto Ingredients Used for this recipe:
More Keto Recipes You'll Love: